Home renovations are great! It is an upgrade of your living space. Those familiar four walls get a new lease of life and you can sit back when everything is done and enjoy Living Space v2.0
…in theory anyway! Be warned that sometimes there is pain involved.
WG had a taste of that pain himself. Did you know that he had embarked on a large home renovation project? It started from summer 2018 and ended just before the pandemic hit the UK in early 2020.
By way of an example, here are some shots of the disruption caused by various rooms in my house not being available, or being used as storerooms for kitchen and bathroom materials. As you can see, my beloved cat Mano was not amused 🐱😅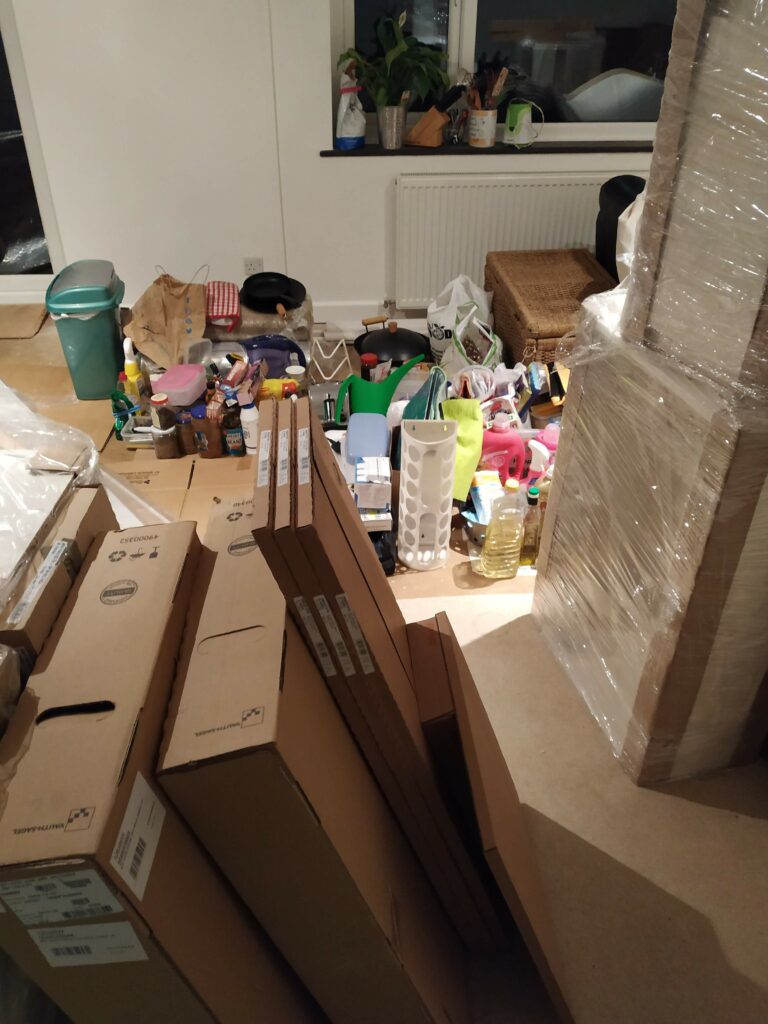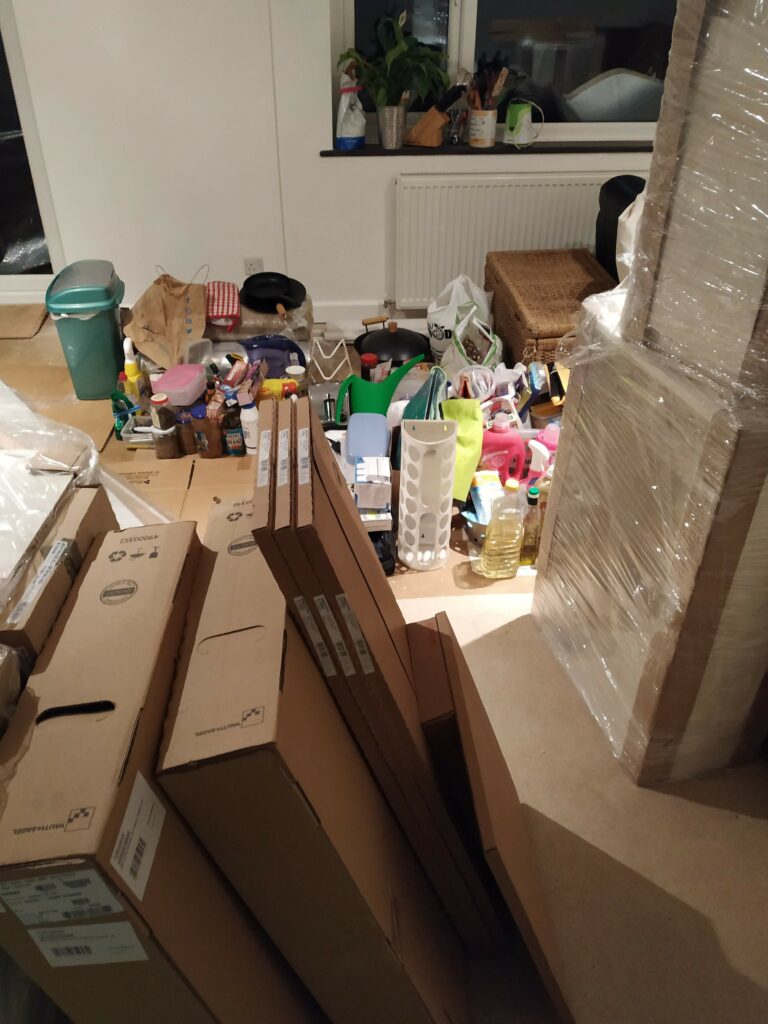 The thing is, my home was in dire need of renovation. I will illustrate that with some photos of before and after later in this blog post. Having lived at my UK address for more than ten years and not doing much in the way of renovation or upgrades, this had left a lot of room for improvement. Anyway, some big life changes put me in a position to either move house or stay put and make the best of it. I chose the latter.
One nice thing about this project is that I was the one deciding on the design and choice of colours, patterns and suchlike. With a partner I am sure things would take longer 😉 This has downsides though, as it can be a lonely experience visiting endless showrooms and DIY warehouses to look at tiles, laminate floors, carpets and umpteen different door handle styles. If you are going it alone like I did then prepare to summon all your self-motivation and buckle up for a potentially bumpy ride.
The first thing I did was to sketch some ideas on paper. How should the living room look? What about the bedroom and bathroom. How to make best use of the kitchen.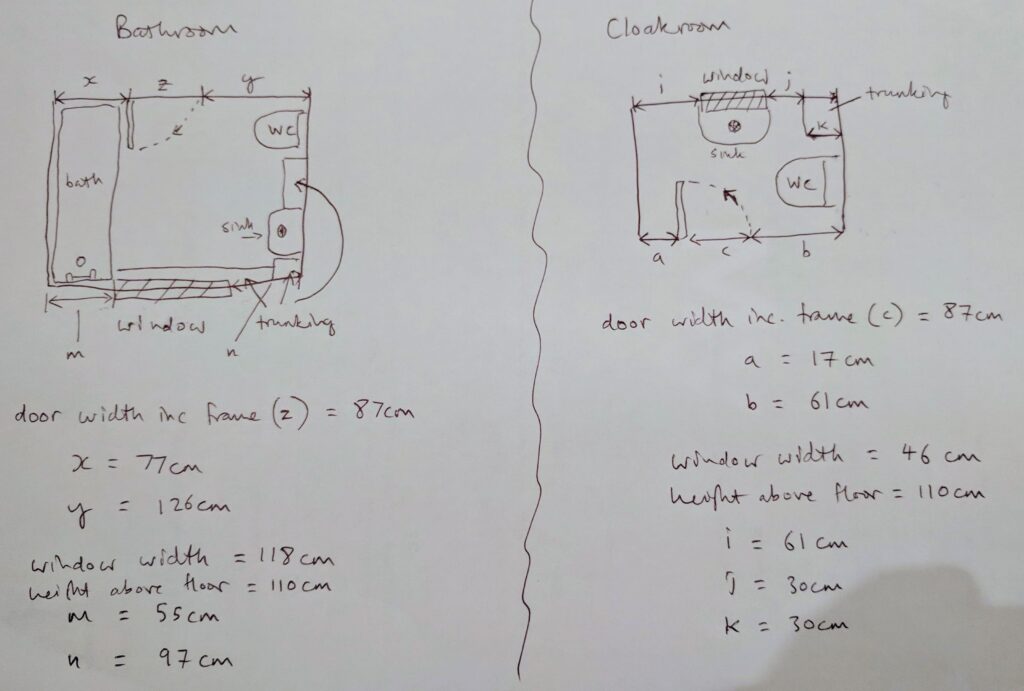 Armed with these sketches made it easier to talk to kitchen and bathroom specialists. It also made it easier to get a quote from a builder and talk over what is feasible given one's budget.
I would say that appointing a trusted and competent builder was the number one "biggest thing" in the whole project to get right. I am a big believer in word-of-mouth from people you know. So this is what I did, I hired a builder who was kinda known to me and had done good work for someone else I kinda knew. I had also seen their work with my own eyes and it looked good.
Sadly though sometimes things do not go according to plan and you trust people who let you down. I do not want to focus too much on this aspect of the project but I cannot stress how important it is to get good tradespeople to avoid stress and anxiety. Use Checkatrade. Talk to three builders and get three quotes. Go with your instincts. Do you like their energy and vibe?
Okay, enough advice – so back to the home renovation project. So how do you generate more renovation ideas and decide on patterns, colours, textures and suchlike…?
My approach was to just visit IKEA and various kitchen and bathroom showrooms. I also looked at what is just outside the house. I am lucky to live in a cul-de-sac and be surrounded by mature trees – sycamore and maple. My idea with choosing the overall theme, materials and patterns were to bring some of the nature from outside to the inside. This meant greens, browns, urban grey, oak and using natural materials like wood.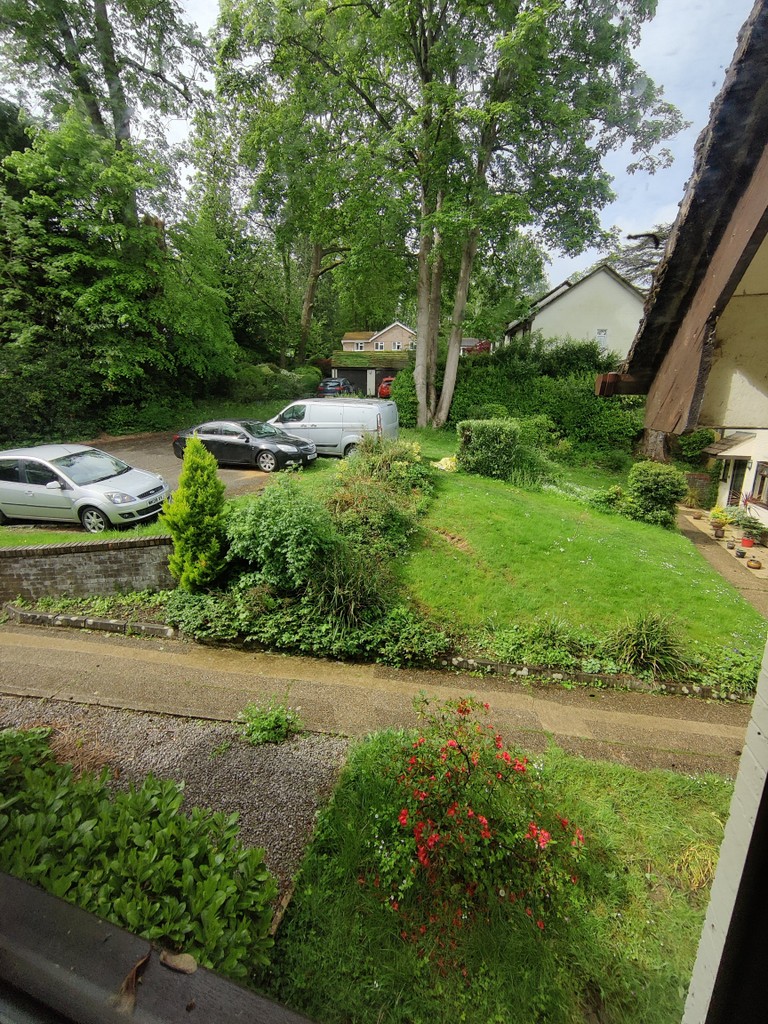 For metal work and appliances and I knew I liked brushed or satin silver so that helped narrow down choices for a lot of things.
That said, after looking at the plethora of choices for flooring and door handles, loo brushes (!) and shower curtains… one's mind does tend to get fatigued. I mainly had weekends to look over things in real-life and made sure to give my mind a break from the project from time to time.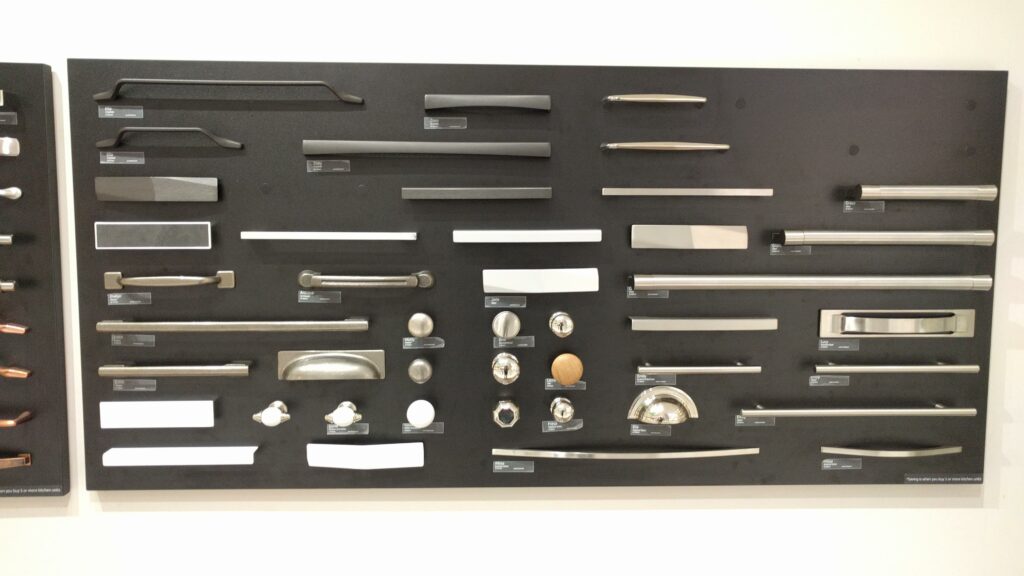 As mentioned, the first builder I hired let me down… but sometimes the universe steps in and helps you out. My neighbour had recently had a new kitchen fitted by Benchmarx. He told me that the kitchen fitter was a builder/carpenter called Joe Jacobs and that we was "good as gold". I looked at my neighbours kitchen and was impressed at the standard of workmanship. Having been burnt by the previous builder I was cautious this time and decided to "trust my gut".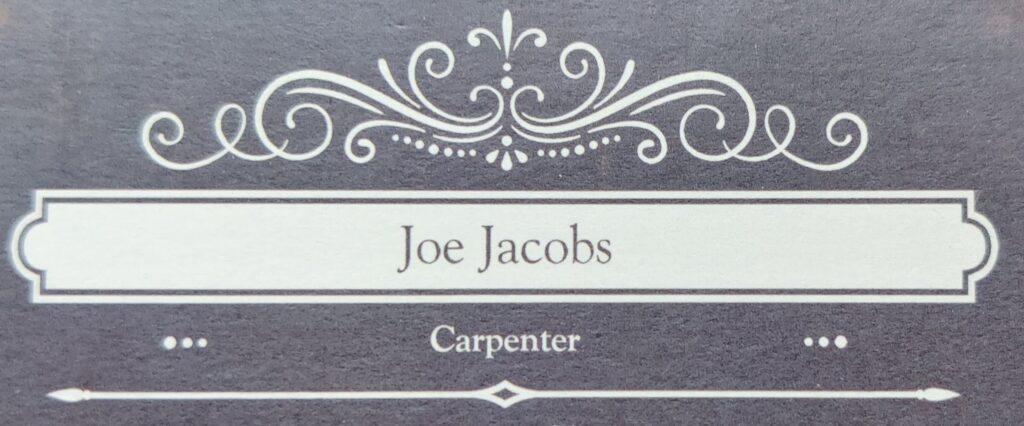 So I got Joe's details and arranged a meeting. I quickly got a sense that this was a good guy – competent, communicated well, eager to build a good reputation in the area and a hard worker. With the previous builder I got the impression that something was off – but I ignored my intuition.
Joe also had a network of tradesmen who work alongside him sometimes. One such is an electrician – I needed some siginificant electrical upgrades to the "nervous system" of the house because I was fitting some high current appliances in the kitchen (eg. electric oven, extractor fan, a large fridge/freezer). Along with that, if I wanted to fit an electric shower in future then I would need a modern fuse board. The old one had fuses that literally used wire-wound cartridges.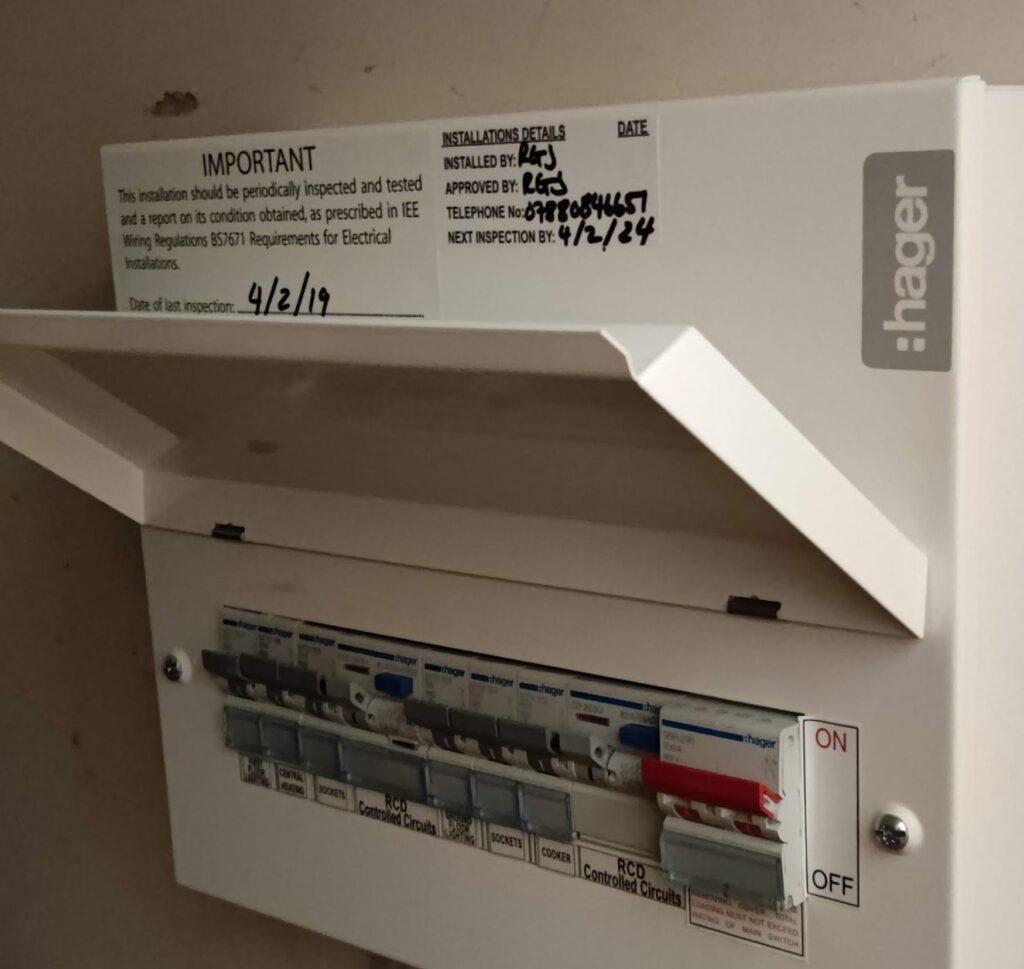 Thankfully all the work Joe did for me was of a great standard. I eventually got my kitchen from Benchmarx. I hired Joe to fit it.
Finding a kitchen and bathroom supplier – so for this I approached several well-known suppliers including Wickes, B&Q, Benchmarx and Wren.
The problem with most of these guys is that I felt they were more like salesmen and a little half-hearted in helping me find something I would be delighted with. Anyway, of those lot I think Benchmarx and Wren were the least "conveyor-belt" like. I have heard Howdens kitchens are good but didn't get round to seeing their stuff. The Magnet showroom I visited was all about granite and stone and I felt was out of my budget.
For the kitchen I eventually settled on Benchmarx – they had a good reputation for quality product on a similar par to Howdens. I cycled to their showroom in Eastleigh a few times to talk to them, get some design ideas worked up and to hammer out a deal.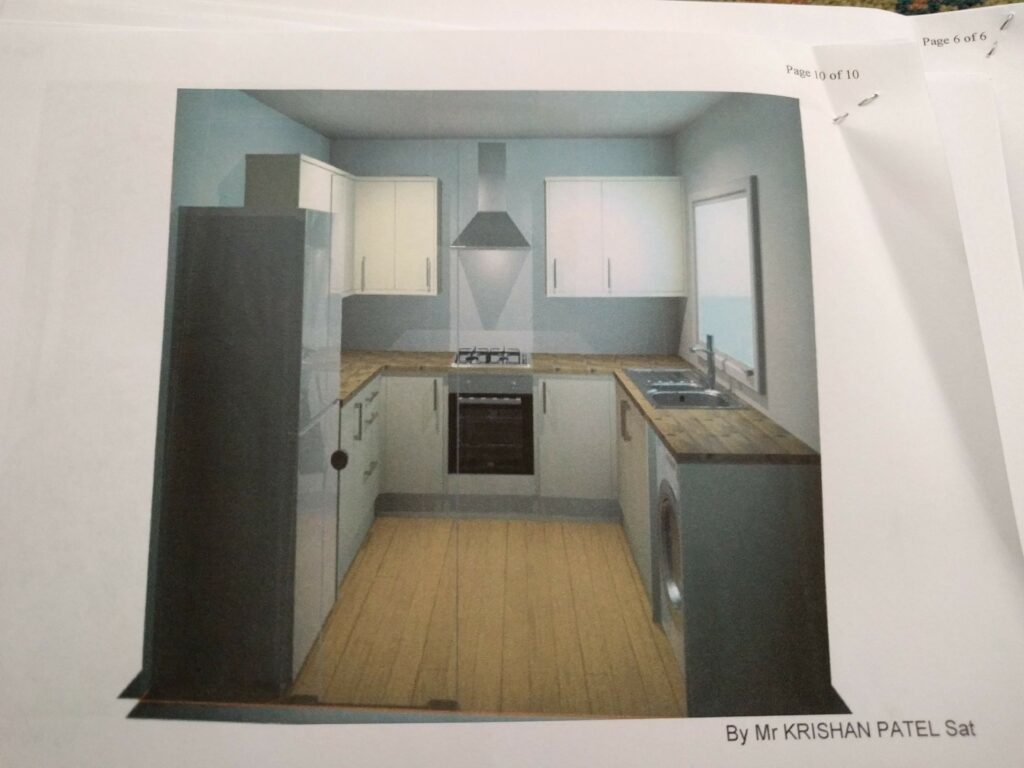 Here after some before and after shots of the kitchen… first the before: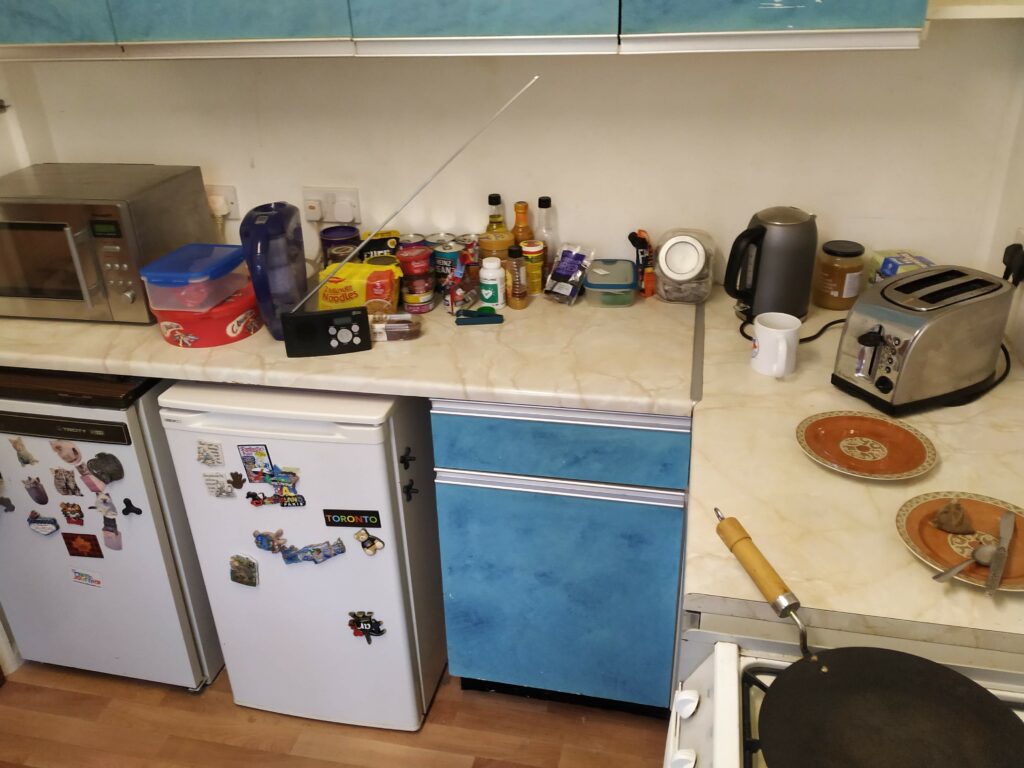 …and after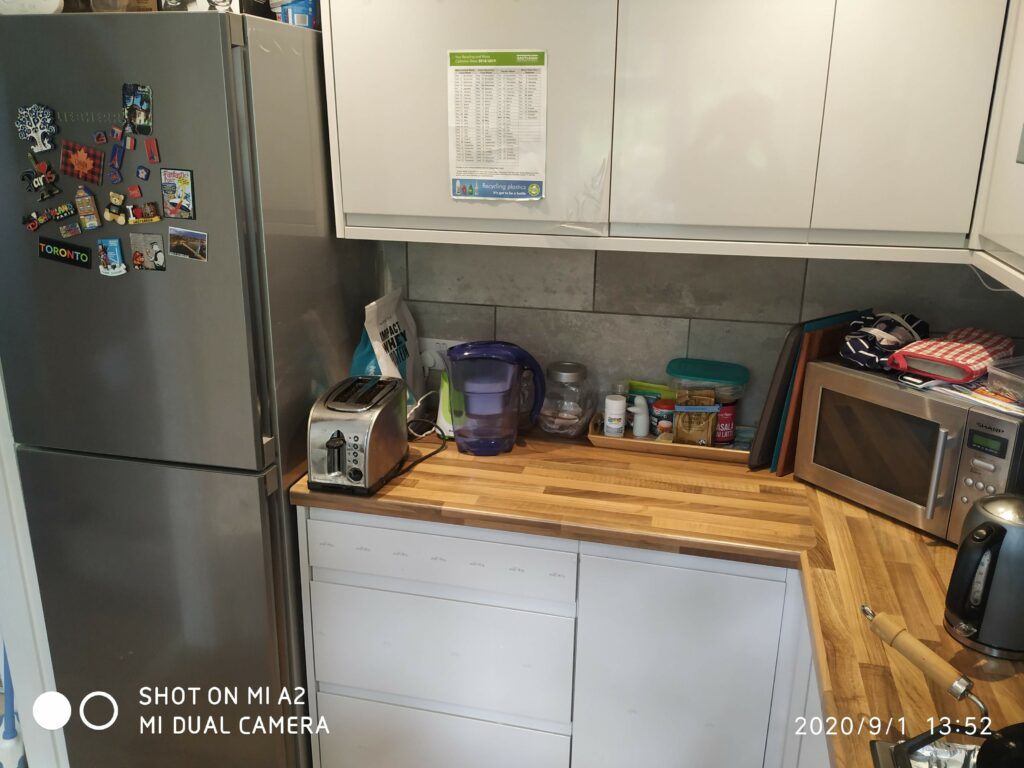 I went with a natural oak laminate worktop to match the natural oak flooring. A large off-cut of that worktop eventually became my "poor man's" standing desk 🙂
As mentioned before, I could not decide from the trillion different handles for the cupboard doors… so I went with a handle-less design, problem solved.
The under cupboard lights are fantastic, they are LEDs and give a warm white light. I asked my electrician for this type of warm white light and he got exactly what I wanted.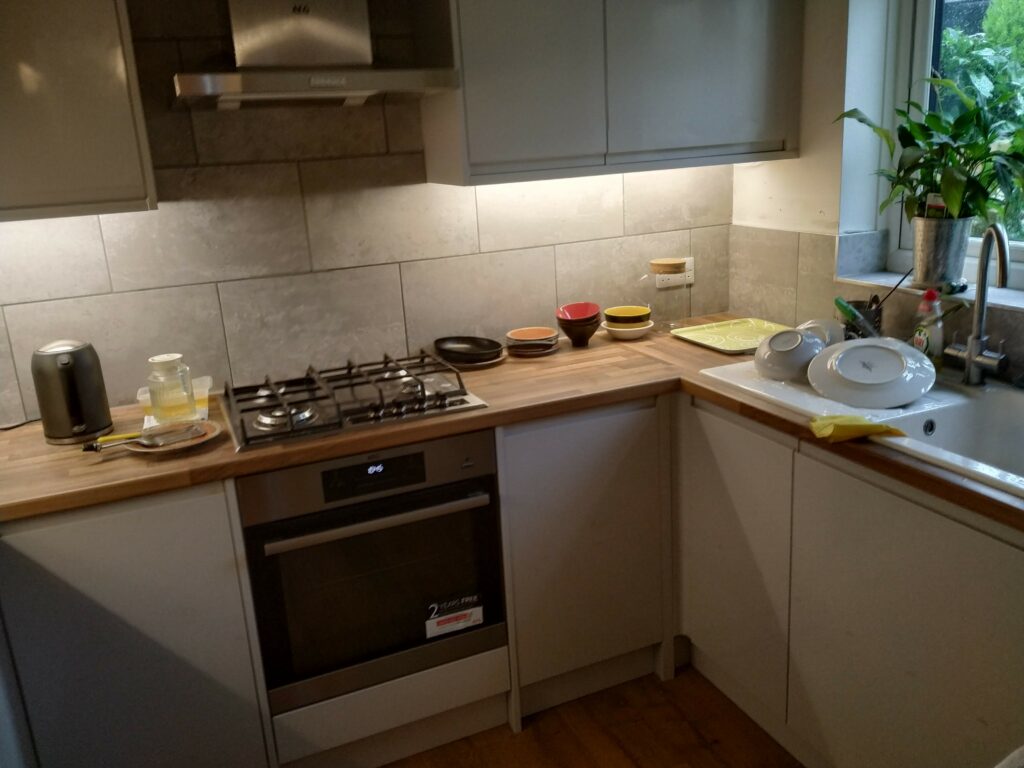 The appliances were mostly AEG – a German brand. All in brushed silver. I wanted good quality stuff that would last. My fridge/freezer was a from a brand I had never heard off, Liebherr, but it has a good reputation and so far has been reliable.
I had a slimline dishwasher fitted. I have to say that for some reason I did not use this until many months after fitting. I had never owned a dishwasher before. It makes things so easy though, a big time-saver – I don't think I could go back to manual washing up 🙂
For the bathroom and cloakroom (this is UK speak for small downstairs toilet/washroom) I felt I needed to try an independent supplier who could give me more time to discuss my ideas.
I found a great local company called Unique Plumbing. The consultant there Rob, was very knowledgable and came up with several great designs for me to choose from. Their product was also good quality. Product that I felt was better quality than the far-east sourced stuff that the likes of Wickes and B&Q have.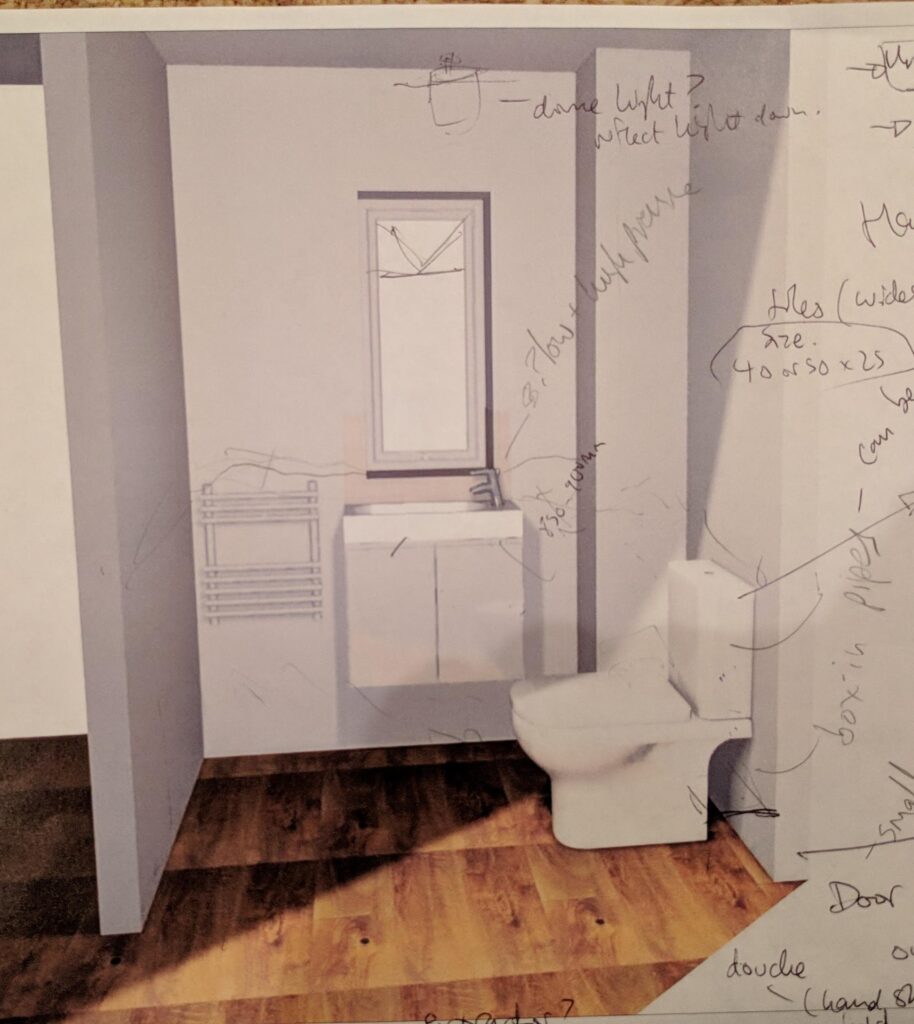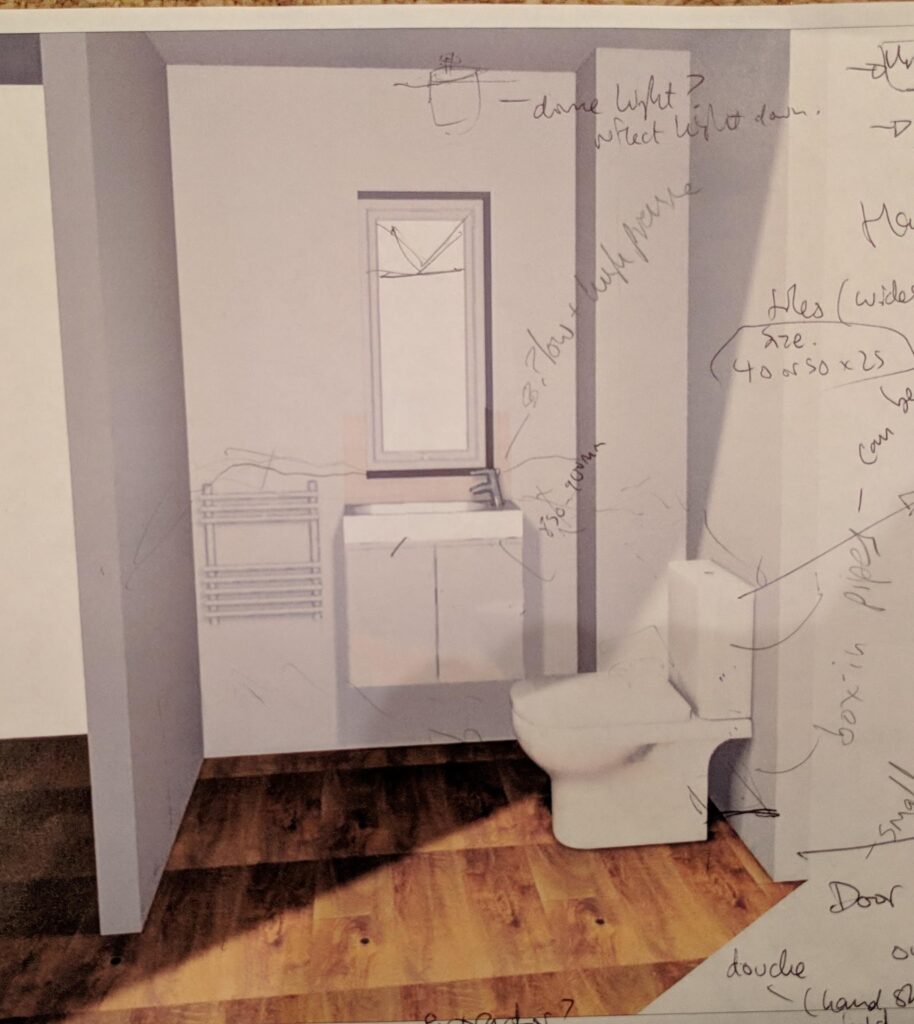 You may pay more by going with an independent specialist but I feel the quality of service and materials you get in the end product make it worthwhile. Do not look at cost, look at value.
Bathroom and cloakroom before…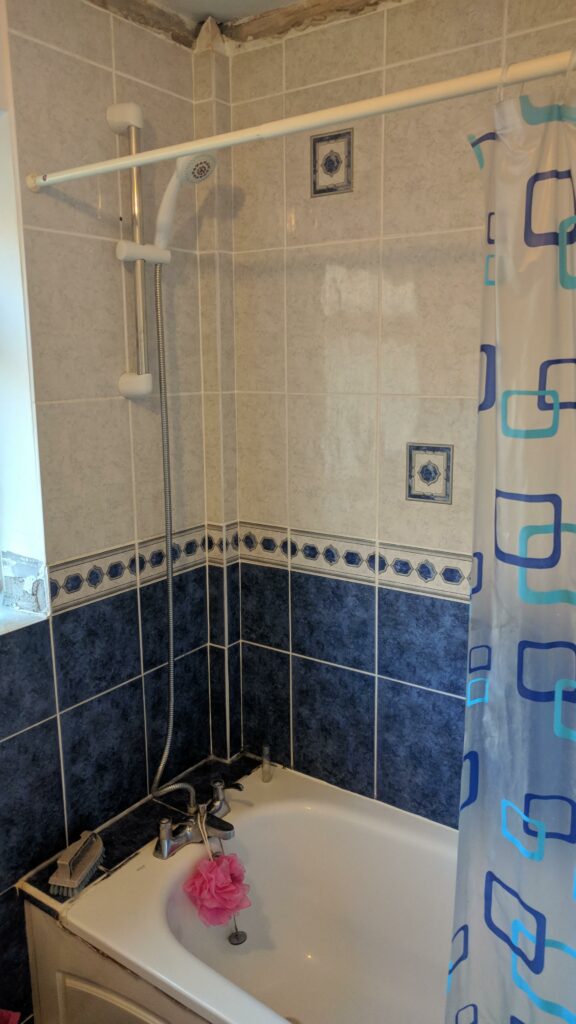 And after…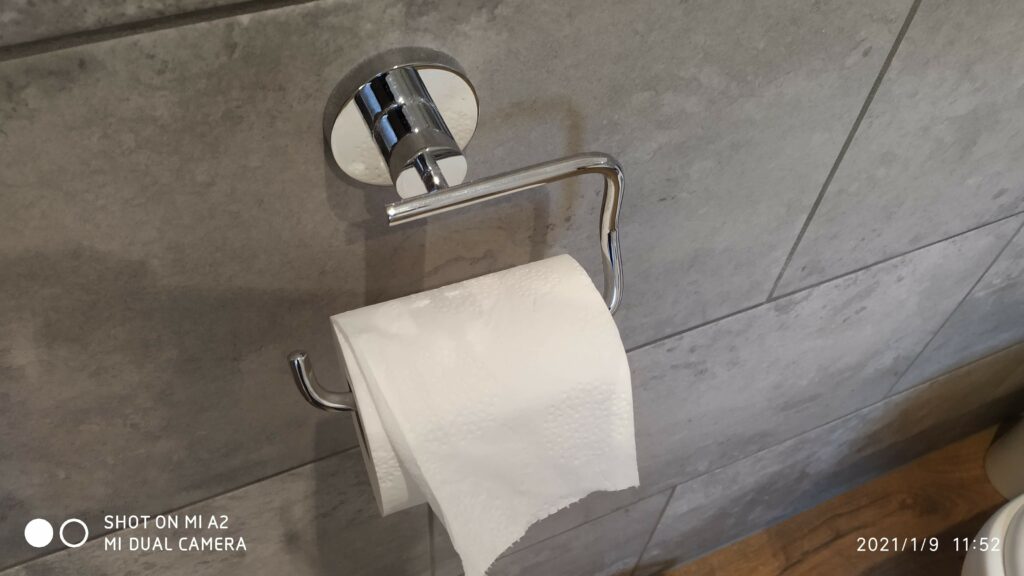 The tiles pattern is un-flatteringly named "urban concrete". Not much nature in that but I just liked the design and went with it in the kitchen too.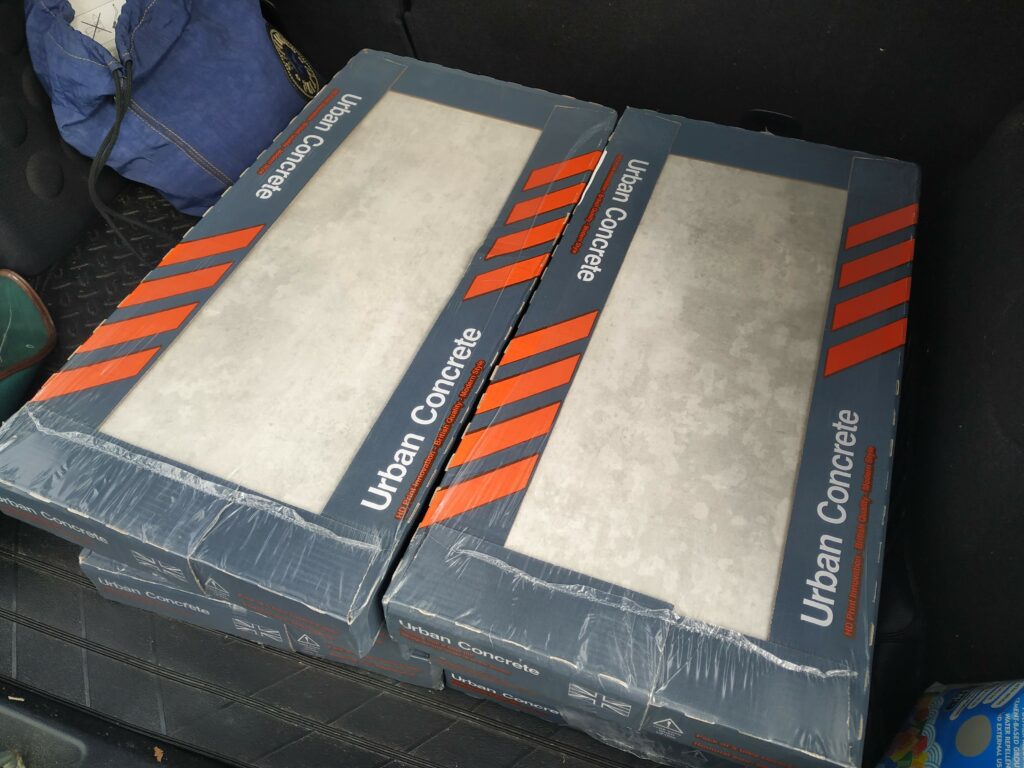 Other renovation work included replacing the front door, new interior doors, new lights, new light switches, carpets, re-painting all walls, spotlights added and re-skimming the ceilings to be smooth instead of a dapple effect. Phew! A lot of work in total.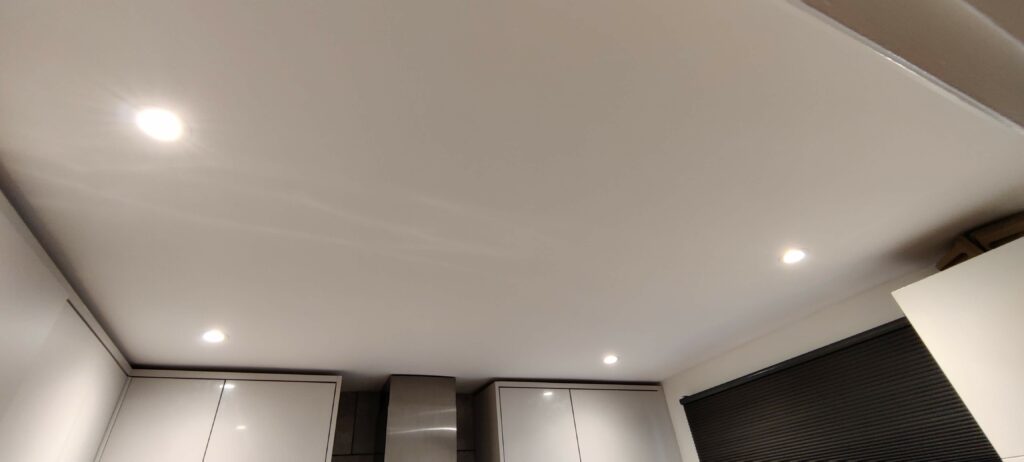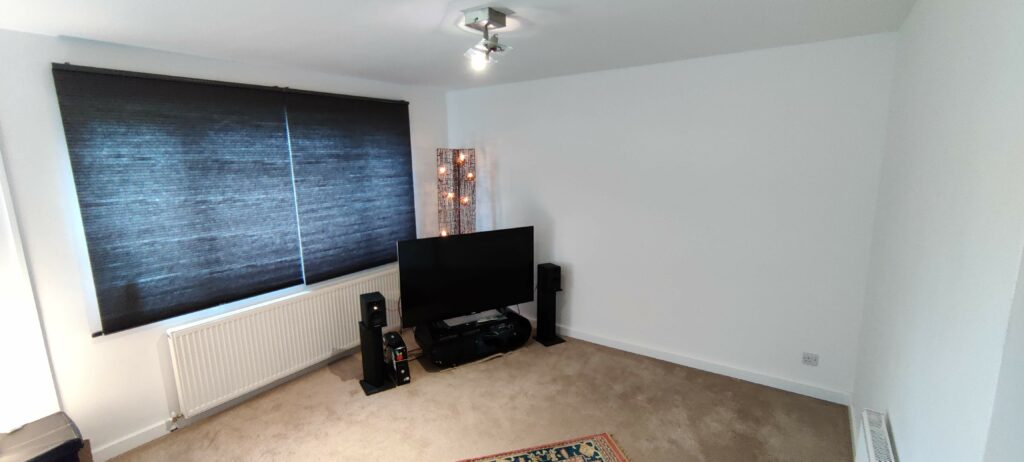 Some before shots for comparison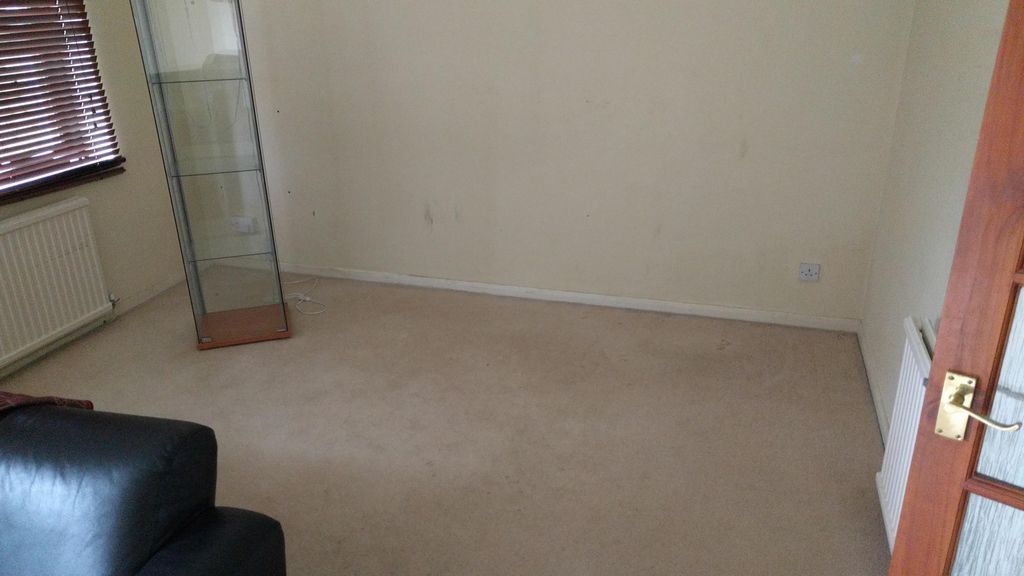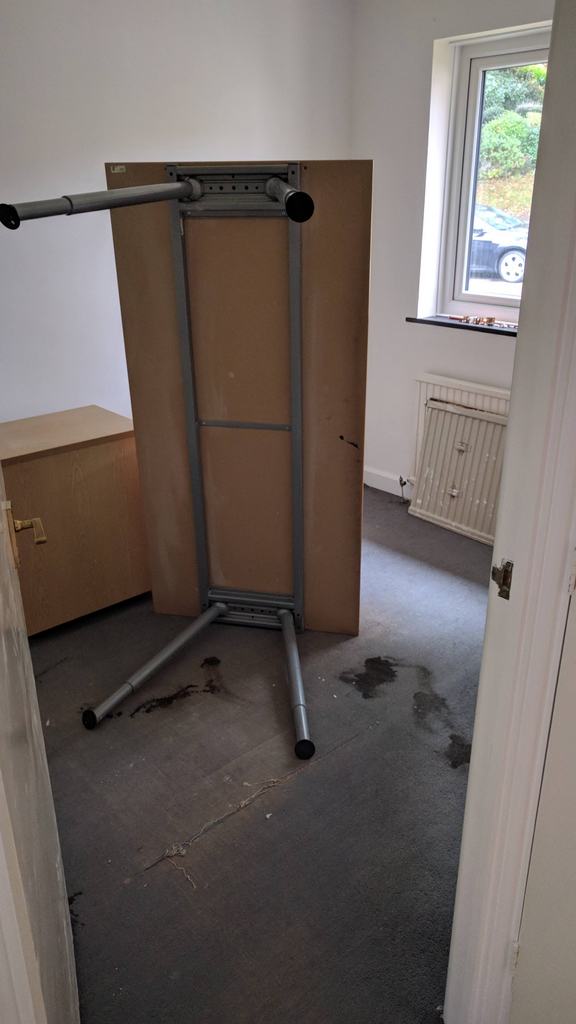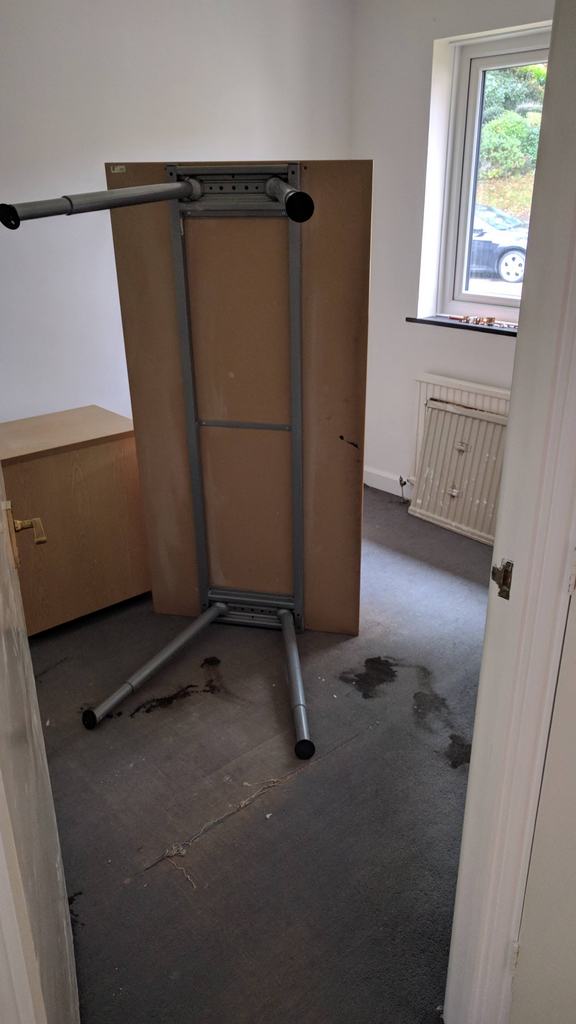 Old front door… and new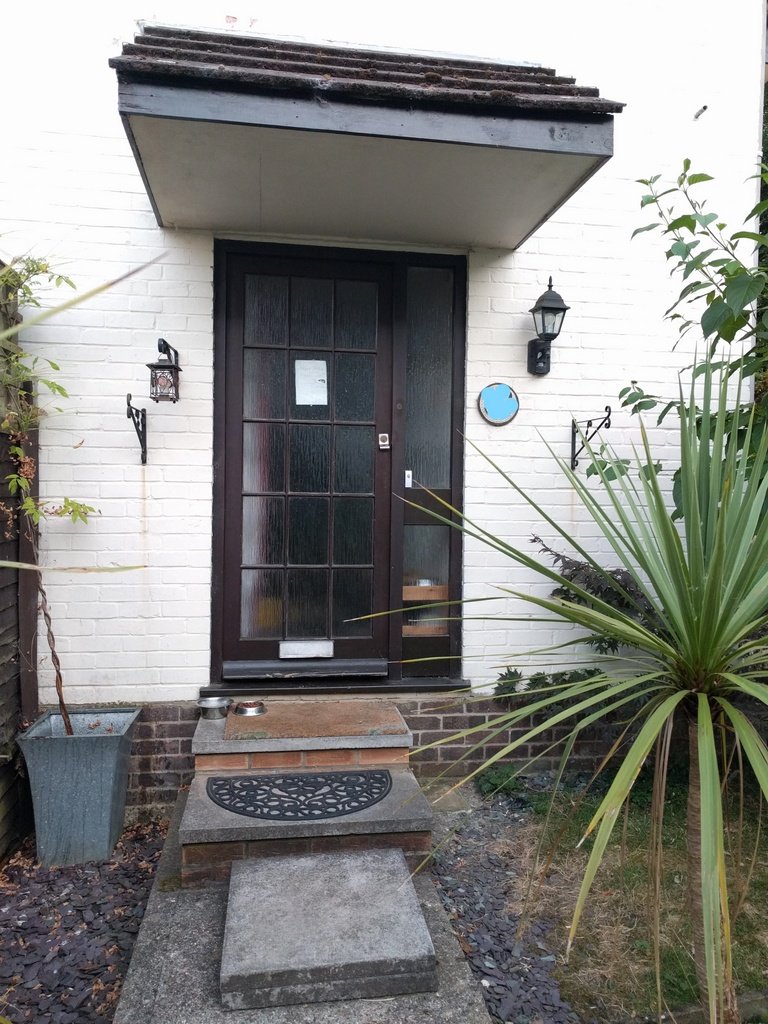 The renovation was also an opportunity to get rid of ten years of accumulated clutter. I sold anything worth over £25 and the rest I gave away free. Facebook Marketplace and Gumtree were useful for that. Anything else I dismantled and took to local charity shops or Hedge End Recycle Centre. I think there was easily three or four trips there with my car boot full of unwanted stuff.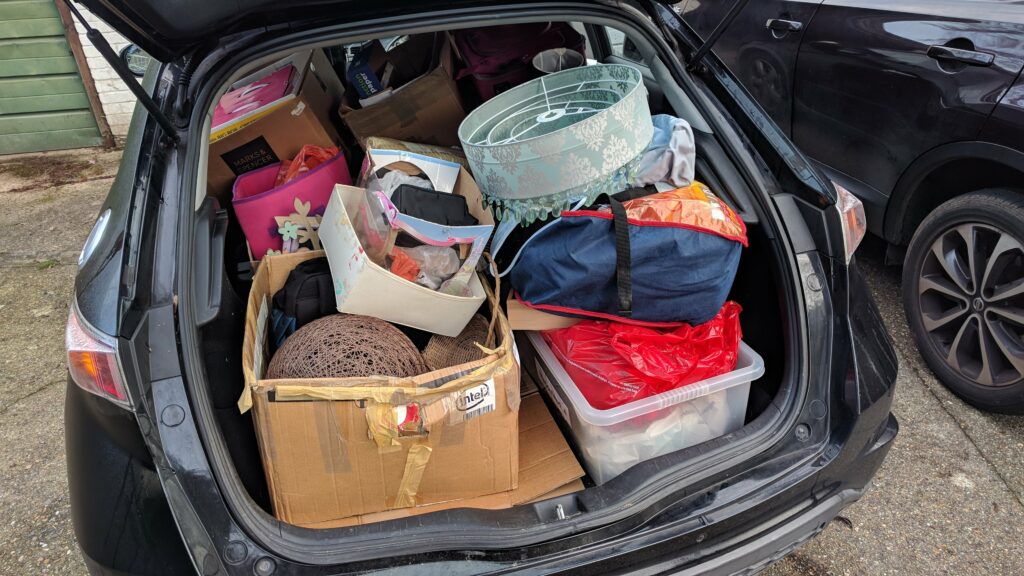 Today I'm now enjoying the fruit of all this work. Enough time has passed that the "newness" of all the renovation has worn off. I don't think twice about my upgraded living space.
Now and again though I catch myself and think about how it all used to look – and I feel lucky and happy to live here. 🏘️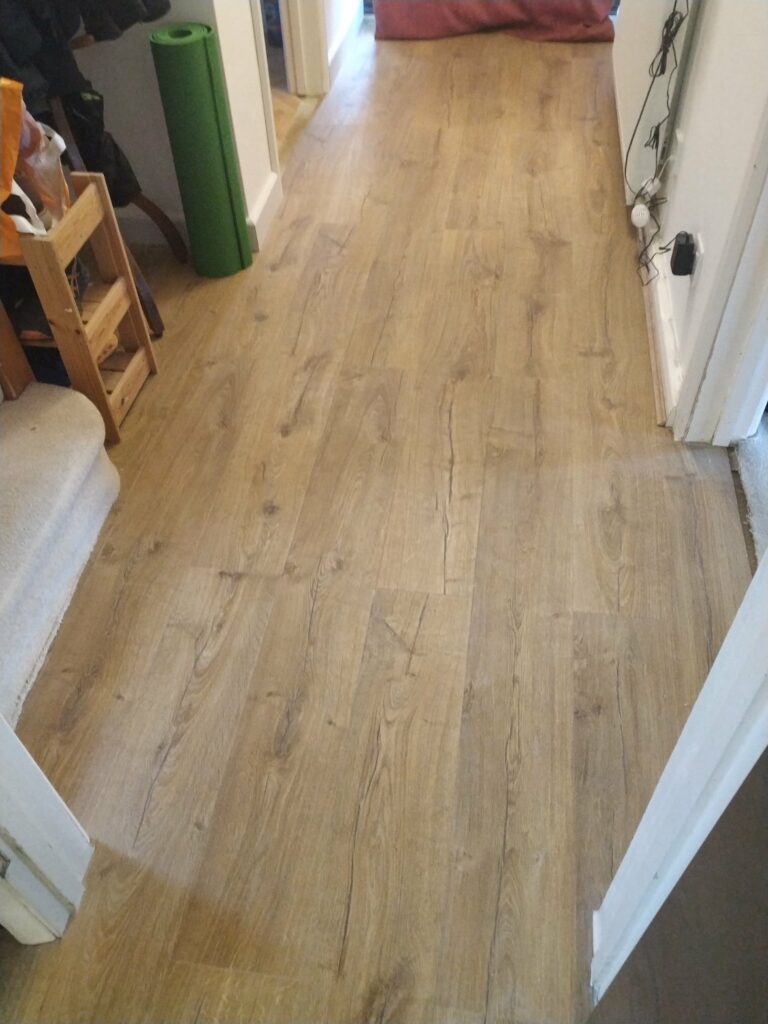 ---
My recommendations for builder/carpenter and kitchen & bathroom supplier in the Southampton area: