I think we all agree that Coffee is a wonderful invention. It kick starts our days and gives us a feeling of warmth or a good chat with friends.
Readers of this blog might have already read my visit to the Southampton Repair Cafe. I volunteered once again the other week but this time it was slightly different: in addition to the usual repairers there were a bunch of organizations promoting various community and anti-waste causes.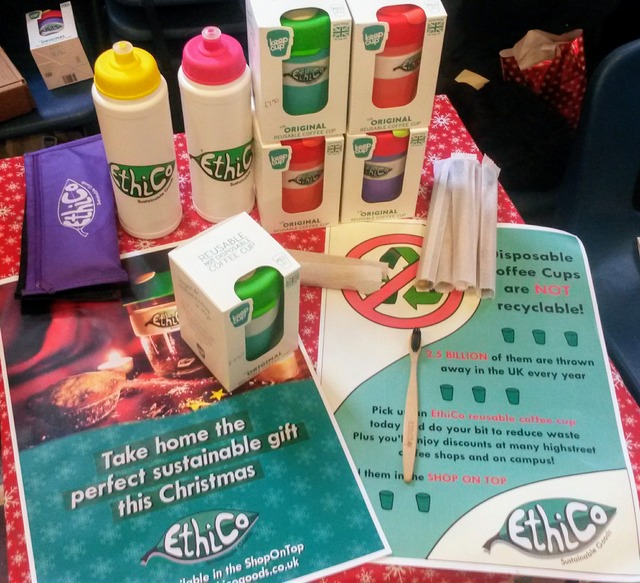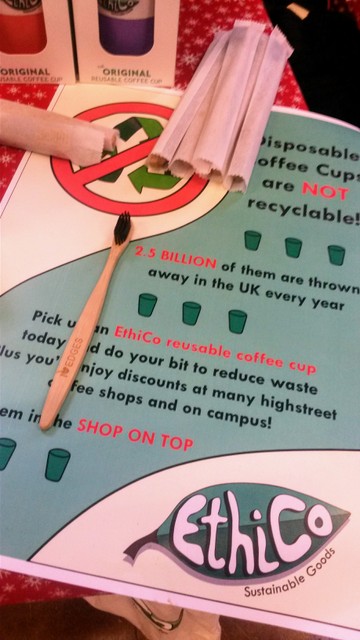 One of these was "EthiCo" – sety-up by a bunch of Southampton University students with the aim of reducing plastic waste around the campus. On their stand they had toothbrushes made from bamboo and re-usable coffee cup called a KeepCup. After chatting with them for a while I was impressed enough with their gumption and their cause to buy a KeepCup from them.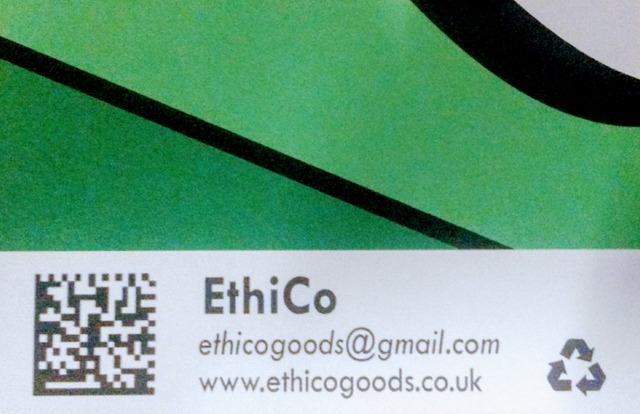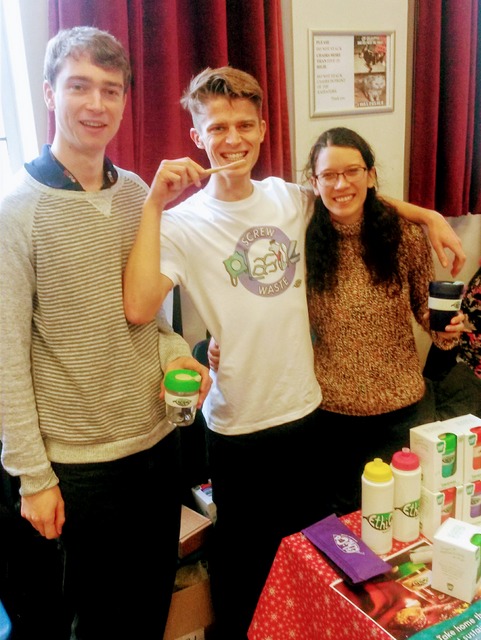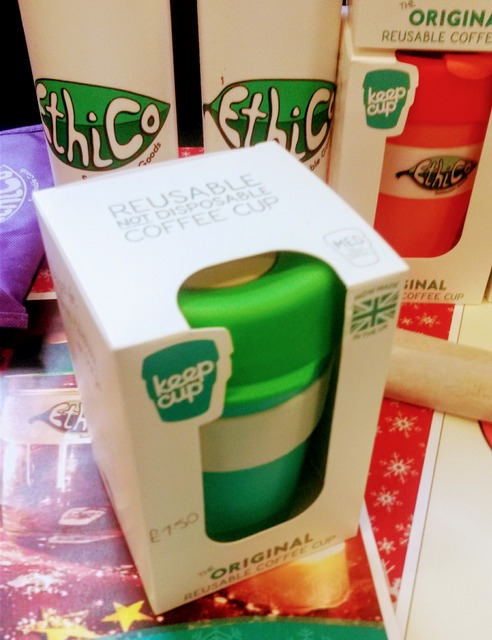 This got me thinking: can I really use this everywhere in Southampton..?
The EthiCo guys told me that some cafe's will give a small discount or more loyalty points for using a re-usable cup. I had to try it out myself…
McDonalds
I wasn't sure what kind of reception I would get at the well-known "chain of the golden arches". In my mind I was expecting some inflexibility: "no sir, we can only give you the coffee in our certified, anti-litigation McCup with the McLid and McSleeve".
So it is with some interest that I approcahed the McDonalds in the West Quay Retail Park and… I'm happy to report that they gave me my Latte in my re-usable cup.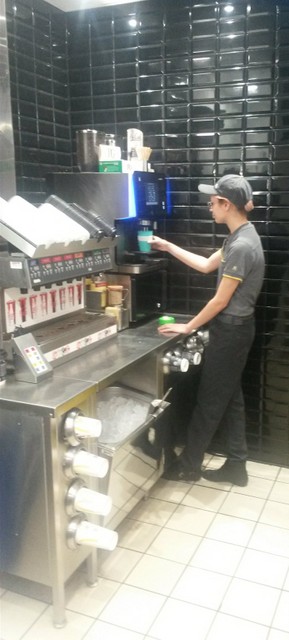 But.
A few days later I cycled to Eastleigh town centre and decided to try the McDonalds there. I asked if they could give me it in my reusable cup and they said they could only give me it in their own cup – and that I could then pour it into my KeepCup!
Uhhh, yeah OK.
To be fair, the server chap seemed amenable to my request but I saw him ask his manager who then refused my request. The server empathised with me about the cup being a waste.
It would seem the it's all down to the attitude of the staff or manager in McDonalds. For this reason McDonalds gets two out of three coffee beans. A shame as their coffee is pretty good on both the taste-buds and wallet.
Cafe Thrive
This a is a relatively new Vegan cafe/resteraunt on Hanover buildings sandwiched between Rice Up Whole Foods and British Heart Foundation. Look out for the black and white logo (the pasta place next-door is also black and white so don't get confused!).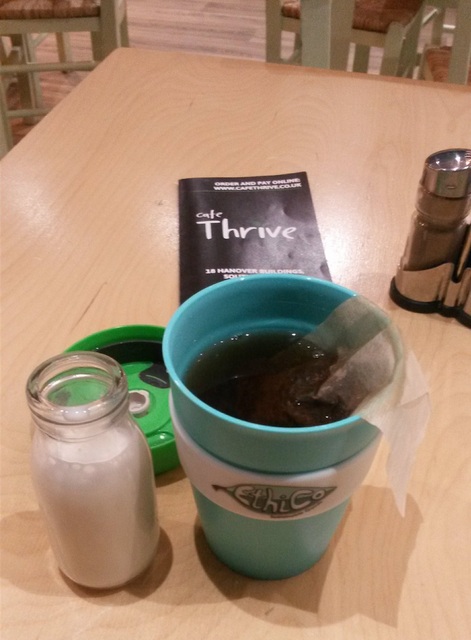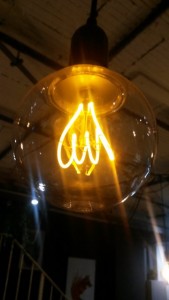 Given the laid-back friendliness I already experienced here I could predict that they would just "get it" and sure enough they gave me a delicious Assam blend tea in my Keep Cup with no fuss whatsoever. They even gave me the Oak milk in a cute bottle alongside it.
Well done guys, you get the maximum three coffee beans out of three 🙂
Mettricks
The family-owned chain also exudes an environmentally-friendly vibe due in part to the locally sourced nature of all the food. I should have no problem here right?
As you can guess, I did indeed have no problem. The staff in Mettricks Old Town gave me a coffee in my Keep Cup twice now. No muss, no fuss.
Mettricks gets three coffee beans out of three.
The Art House
As the website puts it: Your one and only creatively-inspired, community-run, organic, love-filled, not-for-profit, quirky, slightly wonky, home-grown, 100% original, local cafe / gallery / venue / home-from-home in Southampton.
With an introduction like that you can probably guess if my re-usable cup was accepted: it was 🙂
Much like Cafe Thrive, these guys were chilled and friendly bunch. They also had a wide variety of non-dairy milk substitutes (Oat milk being my favourite which they prepared up to a lovely creamy froth).
I sat upstairs which as the photos show has oodles of character – it is more like somebodys lounge. I sipped my lovely coffee over reading an artbook about famous street-artist Banksy.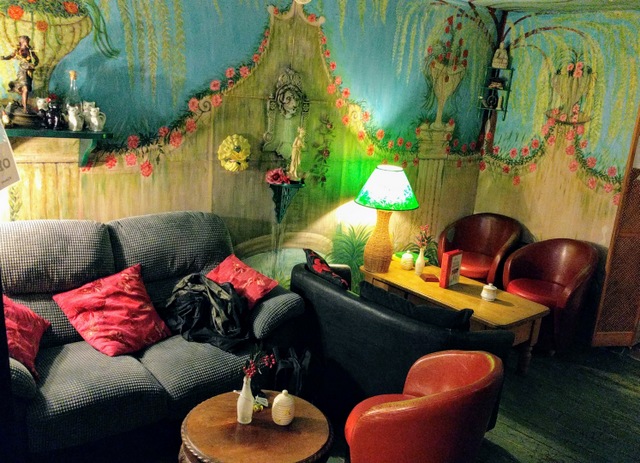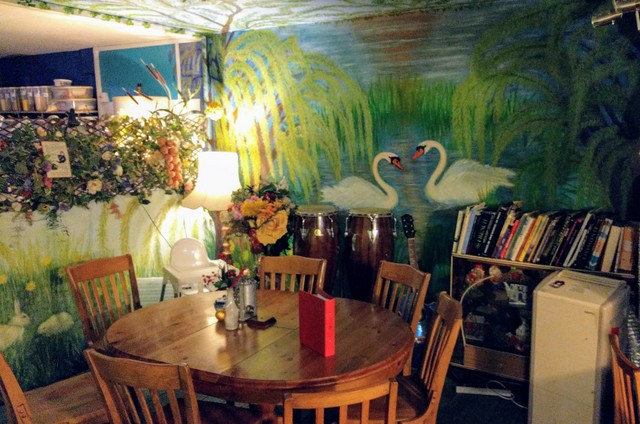 I give The Art House three coffee beans out of three.
Costa
No issue here – simple and straightforward and damn good coffee 🙂
They also gave me a discount for using a re-usable cup. Got nice, frothy Soya milk on top.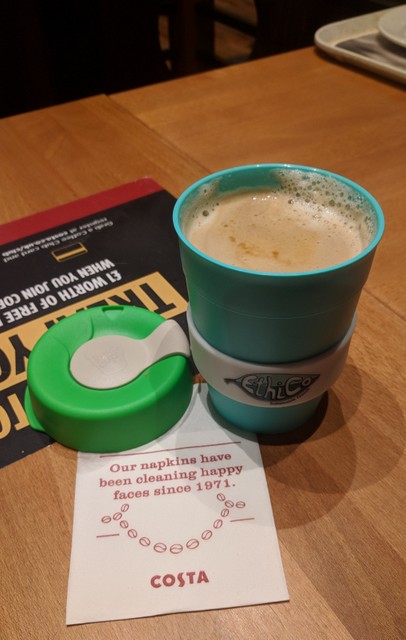 Three coffee beans out of three. Well done Costa.
Coffee #1
A friend of mine claims these guys serve the best coffee in Southampton. We'll see about that son…
I think there are two branches: one on Commercial Road not far from West Quay and the other in Portswood High Street towards Highfield Lane. I tried the Commercial Road branch and they accepted my reusuable cup without any issue.
However as I was having it within the premises, they stated that no discount was forthcoming. They pointed out the ceramic cups for that purpose. Fair enough I guess (but what if I decide to leave the cafe after 5 minutes? I cannot take their cup) They also had milk alternatives, but this was limited to Soya milk although they say Coconut milk is coming soon.
So I got my coffee in my KeepCup and you would think all is well right? Wrong. Now every other barista filled my KeepCup to the top of the cup but here I got a small volume of coffee that consisted mostly of mostly dried milk. Check photo below.
Now to be fair, I should have told them about and I'm sure they would have fixed it but I came there to do a bit of work on my laptop before rushing off somewhere else so I wasn't really in the mindset to get up and confront them over it.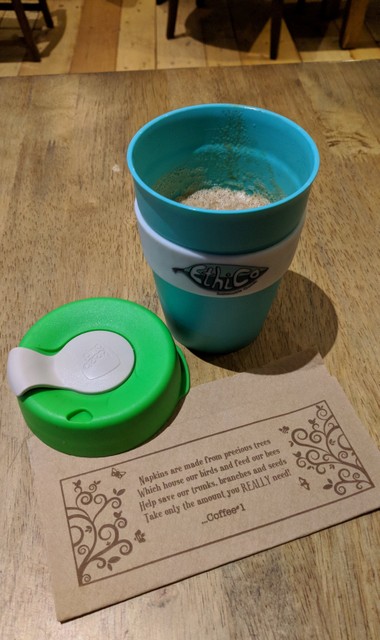 And while I am in rant-mode: the guy cleaning the crockery was so damn loud that I'm sure he was pissed off that day or something – clearly the Santa hat he was wearing did NOT fulfill it's function of delivering Christmas cheer 🙁
And finally: no free WiFi! Holy First World problems! Luckily I was within range of the Lloyds Bank free WiFi next door which I was able to connect to without any tedious "create account" feature.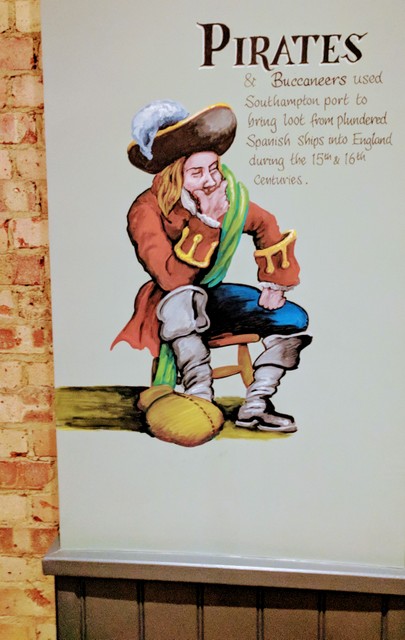 So these guys get one coffee bean out of three – must do better next time guys… Maybe I'll try the Portswood branch but for now you rank below the fast-food chain.
Cafe Giordano
Cafe Giordano is in West Quay food court. The food court itself is populated by weary shoppers, self-conscious teenagers and spaced-out families… but the cafe is situated towards the cruise ship port with a large airy window. It is actually a civilized oasis of calm in the commercial shopping chaos nearby.
Pleased to say they accepted my KeepCup without issue 🙂 You guys get three coffee beans out of three.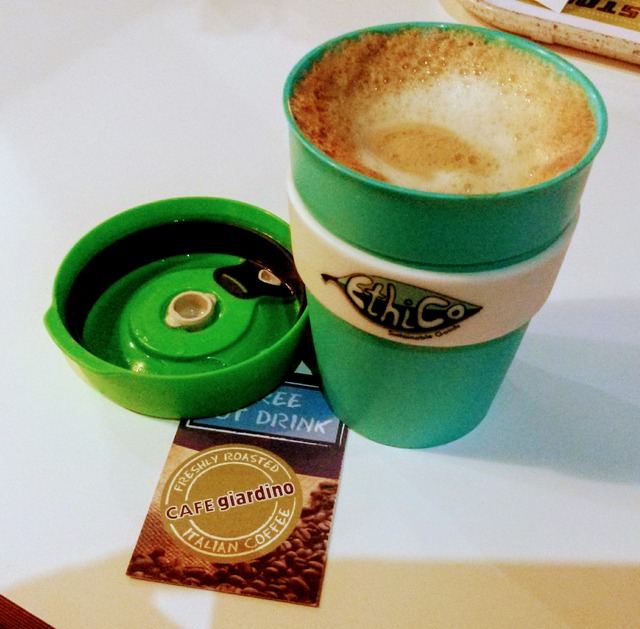 Hey! What about <insert cafe here>?
There were a bunch of others to try but I have yet to approach.
One is the intriguingly named "Coffee Lab" at the corner of London Road opposite the city park. This is the kind of place that is the target of the recent McDonalds ads. The ads poke fun at boutique coffee places that go over-the-top in brewing the "perfect" cup.
There is of course Starbucks which I just didn't get to. I will update this article once I try them out but I'm expecting a similar experience to Costa.
I don't think Southampton has a Cafe Nero but Eastleigh has – that would be another one to try.
Do you have any suggestions? Make a comment below! 🙂
Where can I get a KeepCup?

I bought my KeepCup from the EthiCo guys but you can also find them on Amazon